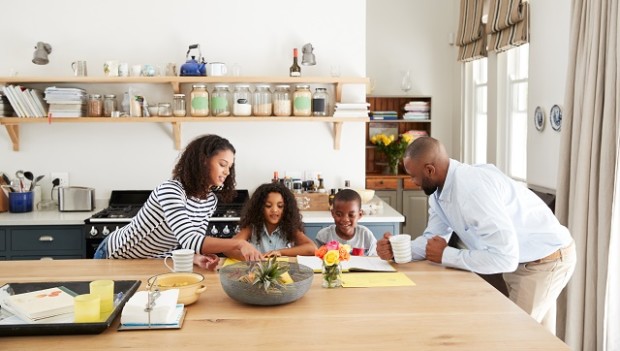 From working and entertaining themselves indoors – as well as their kids – to pottering about in the garden, enjoying video gaming and indulging in skincare, consumer shopping behaviour is shifting to reflect our new lifestyles and mindsets in the face of coronavirus.
Many consumers are also tightening their purse strings even further, as they save for an uncertain future and have possibly suffered from a reduction in household income.
Whether they're looking for an escape from the grim reality of self-isolation with a good book, breaking a sweat in their new in-home gym, tackling DIY projects or homeschooling their kids, some retailers have seen a rise in certain categories at the moment. It's what economist and analyst Dr Prashan Karunaratne describes as "the substitution effect".
 "[It] affects the way consumers achieve their satisfaction in terms of their needs and wants. Consumers now foresee a short-term lifestyle change and have a need to find substitutes to achieve their desired level of satisfaction," he said.
 Karunaratne explained every consumer has a particular level of satisfaction or "utility" that they wish to achieve from their purchase of goods and services. This can have many facets, from nutritional, educational, social and familial as well as health, entertainment, hobbies and leisure.
 For example, for those Australians who would normally go to the gym, they're now buying dumbbells and signing up for online exercise programs. Others may now substitute their former hobbies with tending to their garden or video gaming.
It's been reported that Bunnings' sales in the garden category have gone up, JB Hi-Fi and The Good Guys have seen a rise in home office tech products as well as home appliances, and gym equipment seems to be flying off the shelves at Kmart.
Online retailer Adorebeauty has noticed more customers indulging in skincare at home and stocking up on basics like shampoo, as well as enjoying more sex toys, observed founder and CEO Kate Morris.
"Everyone's finding it so stressful. I've always felt beauty is way more about self-care than appearance," she told Inside Retail Weekly. "Giving yourself a face mask and having a nice bath and maybe burning a lovely candle all just makes you feel a little bit better. And when times are uncertain, that's what we look for – little moments where things feel normal."  
Now that parents are homeschooling their children, Dymocks saw a 344 per cent jump in its online sales compared with the previous week. Toys, games and puzzles were also up 390 per cent on the previous week.
Online retailer Booktopia has also seen a 57 per cent rise in sales of fiction and 35 per cent in kids.
"The reality of self-isolation is just beginning – we're looking for stories to take us away from the real world. We're catching up on novels we have been meaning to read. We are buying fiction books for our school-age children, with the hope we can get them off the damn internet and into good stories from Aussie authors to distract from the doom and gloom. We're looking for crafty things to do with our hands to pass the time," noted Booktopia analyst Kristy Ward in a LinkedIn post.
"Finally, we are considering how we deal with change in our careers, managing grief, finding happiness that will sustain us through the darkest time. Put simply, we're trying to work out how we're going to recover from all of this, which we will."
A post-coronavirus future?
While supermarkets are still struggling to keep up with panic buying and consumers are continuing to buy up big on groceries and pharmaceutical items, eventually, the desire for consumers to stockpile will wane.  
But in terms of their post-coronavirus lifestyles and habits, it will be interesting to see whether Australians' new shopping behaviour and reliance on e-commerce will continue once the worst of coronavirus passes, noted Jason Pallant, marketing lecturer at Swinburne University.
"Is this a temporary blip where we change our behaviour and when everything goes back to normal, we'll dive back into what we used to do even more because we've been missing it?" wondered Pallant.
"Will we rush back to shopping centres because we haven't been there and they seem new again? Or this a longer-term thing, where a lot of people actually change the way they interact?"
This story first ran in Inside Retail Weekly. Given the current crisis, we have decided to unlock all premium content related to COVID-19. If you would like to support Inside Retail, please consider subscribing here.