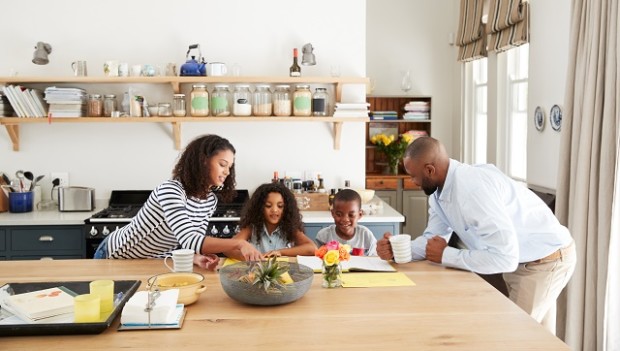 There have also been increased sales in some toy categories. Again, it coincides with school holidays, so families are in desperate need of some diversion for not only children, but also themselves and their families.
We really see it as one of our missions to help families who are spending a lot more time together during this crisis by providing them with what they need, whether it's a toy or just ideas. Our Toilet Roll Challenge is very much about that. Everyone should have plenty of empty toilet rolls in the coming weeks, so we've thrown out the challenge for families to come up with creations together.
IRW: There's been a rise in sales at Babies 'R' Us too. What are the products in particular that shoppers are interested in?
LM: Sanitary items. Today we've launched more sanitary products and we now have hand sanitiser access. We've grouped Toys 'R' Us and Babies 'R' Us on the one site and we've gotten a lot of feedback from parents and families that they wanted a way that they could protect themselves and their children when they need to access the outside world. We're working pretty hard to keep up with those requirements.
There are a lot of births every month and those parents will require maternity items, manchester and bedding. We have a lot of feeding and teething products, bathing and changing, booster seats. We've got a few toys for toddlers as well, the range in age is really very broad on what we've got there as well, including books and very simple play products for bassinets and prams.
All those things give parents an easier and more convenient way of shopping, so they don't have to come up with a way of making sure their children are protected while they're out.
IRW: I imagine quite a few parents of young children and babies in particular must be paranoid about shopping for new products right now.
LM: I guess so far, we haven't had feedback to that extent. We've been extremely cognisant [of that] from our own business perspective for some weeks and we've learned lessons from Singapore.
So immediately, we implemented non-contact delivery and receipts from suppliers and to couriers. We did that quite early on when it's only now being implemented in other segments of the market. We isolate inward goods for 24 hours as well, just as an additional precaution, even though we're told this virus can only survive for a number of hours. Hand sanitation came into effect very early on. All staff are sanitising and washing hands when they pass certain points within our warehouse and office. We're monitoring the health of staff. We're really implementing all those things in addition to social distancing. We have a great number of spacious rooms so we don't have people close together, too.
IRW: How has your supply chain been affected?
LM: We've been very fortunate to work with both overseas and local suppliers. There's been no effect so far. Because of our original wholesale business, we have a company culture to increase orders prior to Chinese New Year, so we ordered a lot through November and December, which ensured that we didn't rely on shipments that came out just before Chinese New Year.
We have ample supplies of product and we're probably at an advantage if we were to compare ourselves to our competitors. We're working collaboratively with local businesses and toy chain providers like Mattel, Hasbro, Lego and Moose. We're fortunate in our industry that there are a lot of toy shows and promotions around this time, so through February, we took up a lot of purchasing opportunities which allowed us to avoid increases in price due to movements in Australian dollar.
It's more about what we've learned in the past from other businesses. We've been implementing these practices into Toys 'R' Us and Babies 'R' Us and it was more of a fluke. We weren't expecting this at all. It's more a general unexpected benefit from our company practices.
IRW: Pre-coronavirus, I know that the past year has been a major one for you guys, especially as you're a small independent company that took over Toys 'R' Us just last year.
LM: I think a great deal of it stems from the business we've developed through Hobby Warehouse. We've taken Toys 'R' Us in a very different direction, which focuses on our beliefs and why we feel hobbies are important to people's lives. We met the executive team of Toys 'R' Us in January and we met Richard Barrie, the CEO of Toys 'R' Us Kids Inc, vice chairman Yehuda Schmidman and other parts of their team. We quickly came to the realisation that we share the same beliefs and vision for the company.
Toys 'R' Us has a very rich heritage and it cannot be a store that simply focuses on products and prices, it's more about what families are looking for, how important toys are to the lives and development of children. Our teams all believe that toys are a very critical part of our development as we develop from children right through to adults. They help develop your imagination and help you to learn and problem solve. Most adults can think back to the toys that they loved as children and they can usually name two or three they played with.
We had this discussion internally, when some employees described how they were given a doll that became like a little sister to them and they learned how to love and care for it. There are just so many different ways that toys impact our lives and we don't forget them.  
We're about to roll out a series of videos that will start this week on Thursday and Friday through YouTube, social media and EDMs. We've interviewed parents as well as kids about the special toys in their lives.
IRW: I feel like Toys 'R' Us has such a storied history and has such a huge fan base. Do you feel a sense of obligation to pay homage to that heritage?
LM: There is a consistency that we have to follow because of that heritage. And on the other hand, this is a start-up. We're bringing this company back after having been closed for more than one year and we had such a short period of time to do it, so yes, there is a bit of pressure. But we have an opportunity to really reinvent a lot of aspects of toys and try to convey our beliefs.  
In some ways, we try to help our customers realise just how important toys are to the development of their children, the full impact of what they do and how it will help them in the future. Their children will remember receiving that gift and what they played with 20, 30 even 50 years later.
IRW: Does the overseas team get involved much in the Australian business?
LM: There is a level of involvement. We're in frequent contact with the overseas Toys 'R' Us Kids team, and we have regular email and telephone conversations with them. The thing to remember is that Richard and other people in that market have had over 35 years of experience with toys, and we're able to exchange ideas and visions and really help one another, which has been quite a powerful interaction and relationship.
There are some consistencies, but the models are quite different, although they will evolve as we expand more in our online offering and in our messages and physical stores. In the US, it will evolve in the next two to three years. The consistency is driven primarily by the heritage and vendor relationships.
IRW: What kind of plans do you have on the horizon for Toys 'R' Us and Babies 'R' Us?
LM: We've been building Babies 'R' Us and we're going to split it into a separate site. It has a very high engagement with shoppers, so we're looking to support new parents and grandparents with it. That will be a great focus through the coming 12 months for us.
We're going to be growing Toys 'R' Us quite substantially. It will involve a lot more capital investment, marketing investment and we're also in discussions with some investors to help drive a lot of that growth as well through the next couple of years.
IRW: What does that evolution look like?
LM: It encompasses more suppliers. There are some who we didn't have the opportunity to connect with prior to Black Friday. We had to compress everything into a couple of months to take advantage of that time. We want to partner as widely as possible with baby and toy vendors in Australia. We're looking to add many thousands of new products we weren't able to prior to the very busy period. Our product offering to families and children is going to increase almost exponentially in the coming weeks and months. We're looking at other ideas for expansion including our physical stores as we assess the appropriate timing, given current events.
IRW: How would you describe the current toy market and what's the competitive landscape like?
LM: The great thing is we're able to take a lot of what we learned in other industries and apply it to these industries. The first company that I started many years ago was an IT and tech hardware distribution. Ten years ago, I could see that it was quickly maturing and I felt like we could leverage what we learned in those industries and apply it to Hobby Warehouse, Babies 'R' Us and Toys 'R' Us. I guess that puts us in a very competitive position in the marketplace, if you were to simply look at things like costs and strategies.
What we offer is quite different to our competitors. When we look at the research in the market, parents are looking for a great range of in-store products. We are dominating in a lot of segments already, whether it's Lego or collectibles. We would have the biggest range of Lego, the largest range of Bruda, the largest range of plastic kits from certain manufacturers and we're applying the strategies from what we learned in other industries into this one. We're accelerating that a great deal in several weeks and months.
IRW: Tell me about the new site launch.
LM: We can launch new sites within a couple of weeks. What we've been doing is accumulating more and more products. We just want to make sure there's a critical number of products. We really think the baby and toy markets are ready for this expansion. Competitors do suffer from very high fixed costs but aside from cost and prices, we've got a very different message to convey to our shoppers and a different experience that we'll provide as well.
IRW: What are modern parents looking for right now when it comes to shopping for kids?
LM: In Australia for the toy category, it has been estimated that the proportion of grandparents purchasing toys for grandchildren is over a third. That's followed by mums, which is about 30 per cent and dads at around 10 per cent.
Grandparents haven't evolved their purchasing patterns as much, but there has definitely been a greater shift to online purchasing. There are studies predicting that as many as 40 per cent of toys will be purchased online by 2024 and I think with current events, that percentage will be quite high, if you were to compare 2019 to March-May 2020. The percentage of people purchasing online will be far greater.  
The likelihood is that over the next 12 to 18 months, we're going to probably accelerate that behaviour and many marketers and behavioural scientists do note it's much more difficult for people to return to their previous kinds of behaviours after a prolonged shift, especially this one, which involves some fear and caution.